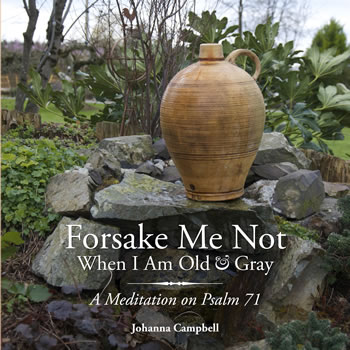 Forsake Me Not When I Am Old & Gray
This little meditation on Psalm 71 is designed to be used as a one month devotional for seniors, those who give them pastoral care or for family members who are walking through a terminal illness with one of their loved ones. A chapter is devoted to each verse of the Psalm, concluded by suggested Scripture passages which complement or are related to one of the six stanzas being examined. Interspersed are events, answers to prayer or real-life situations in the author's life that illustrate the relevant Scripture passages. The theme of the Psalm is: 'I will always have hope and praise you more and more' because the Christian's hope is Yahweh, the great I Am. May God's Holy Spirit give great hope and encouragement to seniors and their caregivers who meditate upon this psalm.
Johanna Campbell, DTh., is an author, speaker and teacher who lives in Abbotsford, British Columbia. She walked with her husband throughout his eight-year journey with CBD (corticobasal degeneration, a rare neurological condition) until he crossed the finish line into glory.
PAY BY CHEQUE
If you prefer to pay by Cheque, PLEASE print out the form below and include it with your cheque.
Make your cheque payable to
Jesse Tree Publications
Mail To:
Jesse Tree Publications
Unit #33 - 2989 Trafalgar Street,
Abbotsford, B.C. V2S 7X9
For shipping to the USA and overseas: Add 50% to shipping costs.

Print out and include this
ORDER FORM
with your payment.